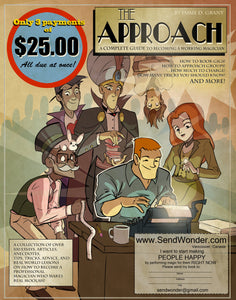 The Approach - physical copy (softcover) - SOLD OUT
Note:

 

SALE- $20 off + free

 shipping 

anywhere in the world!
Price in USD.
I am sorry/happy to say that The Approach is now officially sold out of its second printing; and there are no current plans to print any more. Thank you so much for your support! 


Voted "BOOK OF THE YEAR!" 2013 on ~The Magic Cafe
A complete guide to becoming a working magician!
Have you ever wanted to make money with your magic? To become a professional Walkaround magician who gets paid to bring people joy and wonder? Well, now is your chance...
Before we go any further; Get the first 12 chapters- ABSOLUTELY FREE! Just send me an e-mail at SendWonder@gmail.com with the heading "Free Dozen"!
"
Jamie D. Grant writes with wit, intelligence and brevity – a rare trifecta. In this book he spills essential information that every walk-around performer needs to know. Sure, you already know some of this, but you don't know it all.  And that makes this a
required
investment in your performing career
.
"
~Ken Weber, author of Maximum Entertainment
"If you've been doing walk-around forever or just bought an invisible deck yesterday - The Approach is the best investment you can make. Jamie's covered EVERYTHING based on self-actualized innovation as a worker in the trenches. Two thumb tips up!"
"If I only had this and the Tarbell course, my magic career would be in great hands..." 
~John H
"This is the book that every magician needs in their library . . . even seasoned pros (who will either just confirm what they already know, or if they're like me, manage to learn something new that hadn't occurred to them before). In a short amount of time, I'll be able to tell which performers have read this book, and those who haven't, just by the merits of their performance. Thank you, Jamie, for sharing this "gift of wonder" with the magic fraternity. I will look forward to seeing the majestic garden that will result from the seeds you have planted.
"
~Philemon Vanderbeck
"Invaluable information for the working magician. This is definitely one of the best buys I've purchased in my 24 years in magic.
"
I set out to do this project YEARS ago and it's finally here. I'm so excited and thrilled. So why don't I start by giving
you 5 good reasons why I think you should spend your hard-earned money on this...

1) I did a Walkaround gig this summer that paid $1500. I did that, honestly, by doing all the things in this book.
2) To become a doctor, a single textbook, for a single class, can cost $200. The Approach is under $100 for my entire guideline.
3) There is a chapter called, "The Big Secret". Trust me when I tell you that, once you start doing gigs, this will be worth the price of the book alone.
4) I've never believed in "outsourcing". Everything, from the layout, the design, and the printing, is done here in Vancouver, Canada. By buying this book, you're positively affecting a community.
5) You have my promise that, as a purchaser, you'll be able to ask me anything you need to help you with your career. It's ALL covered in the book but, if you hit a stumbling block, I'll be here to help. I guarantee it.
Okay, but what's in it?
Well, I split the chapters up into the following formats:

Advice: Ideas that have worked for me over the years.
Essays: Longer pieces that I believe apply across the board.
Articles: Previous articles I've written before.
Tips: Quick ideas to apply.
Tricks: Secrets to making things easier for yourself.
Study: Introspective work to help make you a better performer.
Anecdotes: Stories from the road.
Lessons: Ideas to take things to the next level.

Page Count: 280
Softcover


1|How many tricks you should know.Article
2|Who are you?Study
3|Developing your sets~ Part ILesson
4|How to practice.Essay
5|Your Magic Fridays.Anecdote
6|Business cards.Advice
7|Websites.Tip
8|How Do You Look?Study
9|What are you wearing?Advice
10|Funny or serious?Anecdote
11|Are you any good yet?Lesson
12|Starting Conversations.Advice
13|Touching people.Trick
14|How Much To Charge?Article
15|The Cocktail PartyEssay
16|Getting started.Advice
17|Volunteer gigs and charities.Advice
18|What to say in emails.Tip
19|The telephone call.Trick
20|Getting There.Lesson
21|Developing Sets- Part 2Article
22|Silence.Advice
23|What does my contract looks like?Anecdote
24|Transitions.Advice
25|Conquering nerves.Article
26|How to get gigs.Essay
27|Getting ready for your first one.Essay
28|Fingernail care.Trick
29|How much time to prepare.Tip
30|Pocket management.Article
31|Your list.Study
32|THE BIG SECRET.Trick
33|Your closeup bag/case.Advice
34|Things to never forget.Tip
35|Hat or No hat?Essay
36|The handshake.Tip
37|What to put in the lobby.Trick
38|Who to approach first?Article
39|My first effect.Advice
40|What rubberbands to use.Tip
41|Moving through a room.Article
42|The first words you (I) say.Essay
43|Highs and lows.Article
44|Getting applause.Essay
45|More transitionsStudy
46|Saying goodbye to your group.Essay
47|Tables versus standingAdvice
48|Dealing with the Alpha male.Article
49|Staying in one spot.Advice
50|Busted!Advice
51|Getting compliments.Tip
52|Letting spectators shuffle.Article
53|Reset. Reset.Study
54|Venue Staff.Tip
55|Kids at an event.Advice
56|Burning through material.Lesson
57|How many hours?Lesson
58|Remembering names.Article
59|When to show the event planner.Tip
60|The card force I always use.Anecdote
61|Accepting tips.Article
62|Wallets.Anecdote
63|Handing out business cards.Tip
64|What to never borrow.Anecdote
65|Someone wants to show a trick.Article
66|Regular decks.Study
67|Weddings.Lesson
68|Large tables.Anecdote
69|Do you join them for dinner?Anecdote
70|Vest or jacket?Tip
71|The second Big Secret.Trick
72|Do it again.Article
73|Another magician shows up.Anecdote
74|Gigs outside.Advice
75|When only ten people show up.Anecdote
76|Do you need a stage show?Study
77|Dance floors.Advice
78|Checking back in.Tip
79|Dropping cards.Tip
80|Sponge balls.Trick
81|Dealing with disappointment.Advice
82|Hecklers.Article
83|Open versus closed body language.Lesson
84|One handed spectators.Anecdote
85|Stick lines.Essay
86|Lone stragglers.Tip
87|Journal.Advice
88|Leaving them with something.Essay
89|Custom decks.Article
90|False memories.Article
91|Invoices.Article
92|How to get testimonials.Article
93|Getting all the money.Article
94|Increasing rates.Tip
95|Busking.Advice
96|Repeat gigs.Study
97|Pictures.Tip
98|Social media.Advice
99|Going full time.
100|Agents.Anecdote
101|Essay.Article
102|Go get it.Advice
100|The beginning.Thanks

I'll be the first to admit that, as I was writing, I thought, "There is no way I can, or should, devote a chapter to this. They're going to think I'm just putting in filler." But I made a promise that I would include everything I've learned, no matter how small. And, make no mistake, for everything I've included there was a time when I went, "How come nobody told me!", lol. 
And for those of you who pick up a copy, This was the gig that I mention in the final chapter...
Walk Around magic: make people laugh, send people wonder, make new friends, meet the most amazing people in the world, get paid, and then watch one of the greatest bands on earth! Booyah!! 
After doing my 2 and a half hours, I was "off the clock" and told to just hang out and party. Amazing times at the front of the stage.
So pick up a copy of  "The Approach" today and learn exactly how I got here! I can't wait for you to join me.